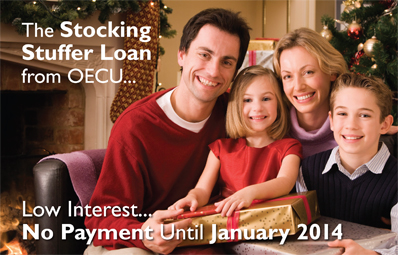 For Information, click here.
For a Loan Application, click here.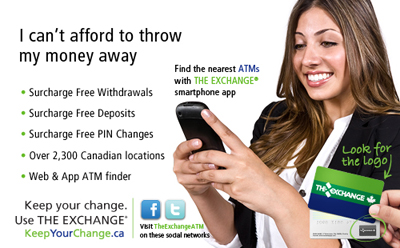 ATM Card Cancellation
If your ATM (Membercard) is Lost, Stolen, Compromised (skimmed) or even if you just have a sense that your card may have been compromised call one of the numbers below and cancel your card immediately. This interactive voice response service is available 24 hours a day seven days a week.
Cancel your card via any of the following options:
ü Birth date and social insurance number.
ü Account number and social insurance number.
ü Name and social insurance number.
ü Name and account number.
ü ATM (Membercard) number.
Stop the criminals from stealing your hard earned money, if you have any suspicious Automated Teller Machine or Point of Sale transactions; cancel you ATM card immediately by calling…
Ø 877 – 764 – 3693 (Canada & U.S.)
Ø 905 – 764 – 3693 (International)

Who can do business with OECU?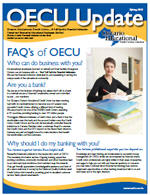 All educational employees (current or retired) and their families throughout Ontario can do business with us – Your Full Service Financial Institution. We are the financial institution dedicated to, and specializing in serving the unique needs of the educational community.
Read about this and other FAQ's of OECU in the Spring Newsletter.

OECU Mobile...is here!
OECU has a new, Mobile web site. We're excited to offer Members access to many of the features of our main site on a handheld device. Features that are currently available on our Mobile site, include: NetBanking, ATM Locator, Promos, News, Services, Rates and a Contact page with office maps.
To access the OECU mobile web site, enter oecu.mobi into the web address bar on your smart phone or mobile device.
Note: Visiting the OECU mobile web site (oecu.mobi) on a computer will automatically re-direct you to our main web site (oecu.on.ca).

Are you trading with Canada's #1 Online Broker?

Ontario Educational Credit Union is proud to report, Credential Direct, the discount brokerage we offer for self-directed investors, has been ranked Canada's #1 Online Broker for the 5th time! If you're trading with another online broker maybe it's time you switch. [Disclaimer]
Click here to see how Credential Direct stacks up against the competition or read more about this good news.

GO Figure - Your ABC's of Personal Finance

With one stop, make more informed financial decisions, organize your finances and calculate your needs for mortgages, personal & auto loans, retirement, insurance
and much more! "Go Figure".



Online brokerage is offered through Credential Direct, a division of Credential Securities Inc., operating as a separate business unit. Credential Securities Inc. is a Member-CIPF. ®Credential Direct is a registered mark owned by Credential Financial Inc, and is used under licence.